DOWNLOAD OUR DENTAL IMPLANT
PRICING & INFORMATION GUIDE
Fill out the form and we will email/text
you the guide along with a $350 savings offer!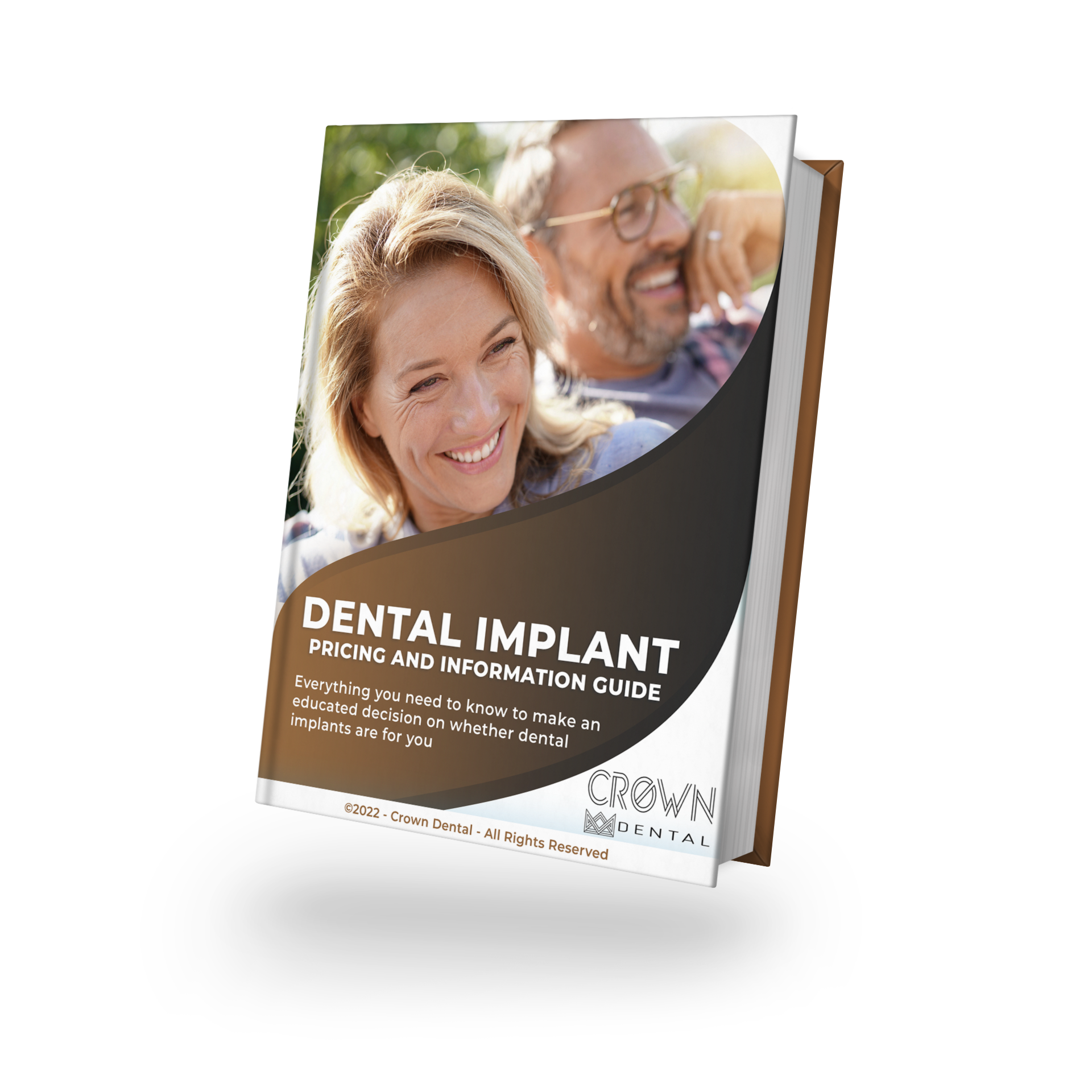 Dental Implant Options
Average Pricing
Factors That Affect Eligibility
And More ...
A dental crown offers full coverage for a single damaged tooth whereas a dental bridge replaces a missing tooth by anchoring to adjacent teeth.
With a bridge, a false tooth, or pontic, is supported by 2 or more attached crowns that are placed over the surrounding teeth. These surrounding teeth, or abutment teeth, anchor the false tooth in the correct position so that biting and chewing do not loosen it.
Aside from the traditional bridge described above, Crown Dental also offers other options to fix gaps.
Cantilever bridges are when one or more crowns support a false tooth on just one side.
Maryland bridges are when wings or framework attached to the natural teeth support the false tooth.
Or if a bridge isn't an option, dental implants may also be utilized to replace missing teeth.
A dental crown or bridge usually takes two appointments to complete.
During the first appointment, Dr. Cantu will prepare the tooth for the crown, take impressions of the tooth for the permanent crown, and place a temporary crown over the tooth to protect it.
The impressions are sent to a dental laboratory where a customized crown(s) or bridge will be created for the patient.
Once the restorations arrive back at our office, the patient can schedule an appointment to have their new crown(s) or bridge fitted and set by Dr. Cantu. 
Patients do not usually have any pain after a crown or bridge is placed, but some patients experience discomfort or tooth sensitivity.
Depending on the material, crowns can last from 7 – 40 years. Patients can extend the life of their crown by practicing good oral hygiene and visiting Crown Dental for regular exams and cleanings.
If oral health is neglected, the tooth under the crown may develop a cavity or infection that will require more extensive treatment, like a root canal.
The total cost of a dental crown will depend on the materials used, as well as the number of teeth treated, their condition, size, and location.
Porcelain over metal crowns are about $500 - $1,500 per tooth. Metal crowns costs from $600 - $2,500. All-porcelain crowns are usually about $800 - $3,000 per tooth.
A traditional or cantilever bridge starts at $1,500 and can be over $12,000. A Maryland bridge is $1,000 – $2,500. Most dental insurance carriers will cover some or part of the cost of the bridge.
We will go over the estimated costs and financing options during the patient's consultation and the front office can check with the patient's insurance to determine if any of their costs are covered.