Periodontal Disease is affecting your overall health! Come and get treated!
Procedure Details
GINGIVITIS Gingivitis is the mildest form of periodontal disease. It causes the gums to become red, swollen, and bleed easily. There is usually little or no discomfort at this stage. Gingivitis is often caused by inadequate oral hygiene. Gingivitis is reversible with professional treatment and good oral home care. Factors that may contribute to gingivitis include, diabetes, smoking, aging, genetic predisposition, systemic diseases and conditions, stress, inadequate nutrition, puberty, hormonal fluctuations, pregnancy, substance abuse, HIV infection, and certain medication use. PERIODONTITIS Untreated gingivitis can advance to periodontitis. With time, plaque can spread and grow below the gum line. Toxins produced by the bacteria in plaque irritate the gums. The toxins stimulate a chronic inflammatory response in which the body in essence turns on itself, and the tissues and bone that support the teeth are broken down and destroyed. Gums separate from the teeth, forming pockets (spaces between the teeth and gums) that become infected. As the disease progresses, the pockets deepen and more gum tissue and bone are destroyed. Often, this destructive process has very mild symptoms. Eventually, teeth can become loose and may have to be removed. There are many forms of periodontitis such as Aggressive and Chronic Periodontitis. There is also periodontitis as a manifestation of systemic disease as well as necrotizing periodontal disease.
More
Deep Cleaning for Pasco pt.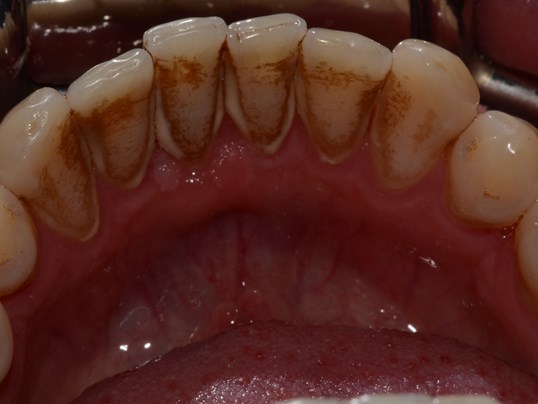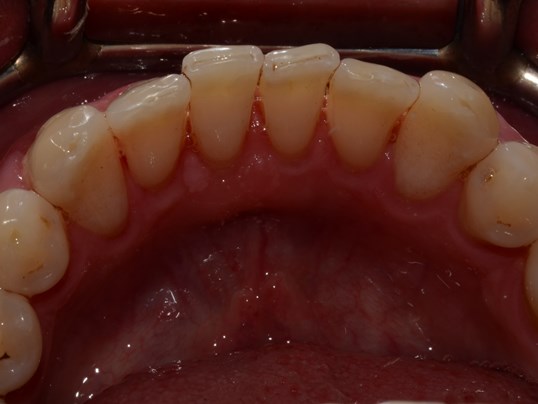 This patient has been coming to Crown Dental for his check ups and exams. At his initial visit it had been 5 years since his last cleaning. Bleeding gums, sore gums, red Gums, bone loss, and tartar build up were some of the signs and symptoms this patient was having. We scheduled him back for a deep cleaning to try and stabilze his gum disease. The picture taken was 6months after his initial deep cleaning. As you can see this patient built up lots of tartar during this time. We had recommended him to come at four months, but for whatever reason he came two months after. Controlling gum disease is no joke. More and more studies are coming out linking periodontal disease (which is a disease of the gum and bones) and heart disease as well as the control of diabetes. Call to make a visit at Crown Dental for an initial exam to diagnose and start a plan to get your smile in tip top shape! More